A waste mountain turns into a mountain of bags and accessories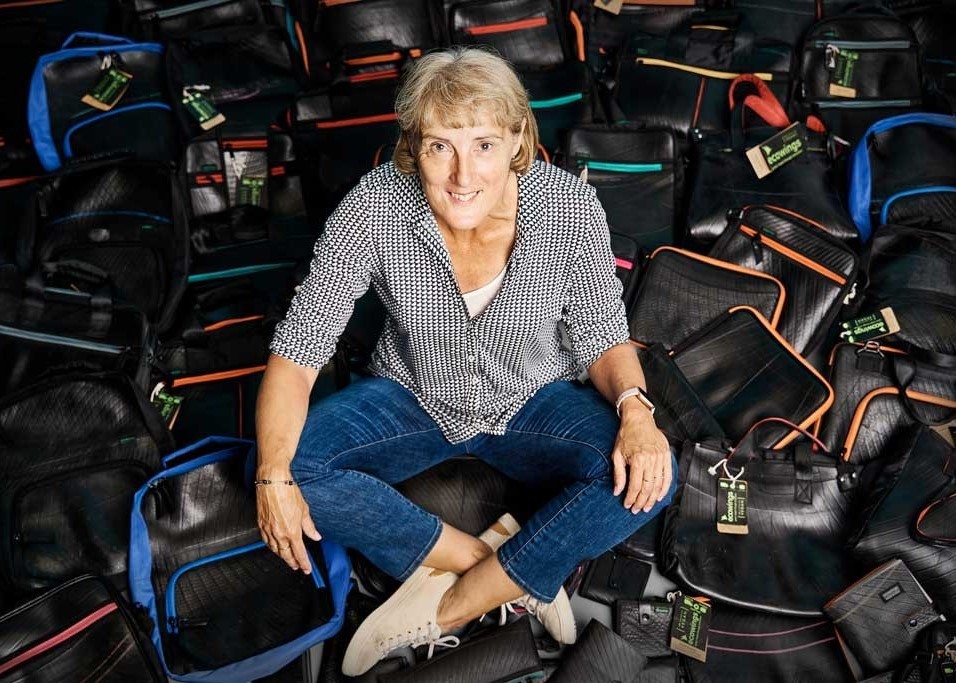 I am Angela Rooijmans, mother of two sons, avid rower and social entrepreneur. After living in India for a while, I returned to the Netherlands ten years ago. In addition to the hospitality of the Indians, the beautiful nature of the country and of course the delicious food, a less positive memory also remained. The large amount of waste on the street where cows (sacred animals, of course) rummaged in search of food.
Upcycling is a solution
The enormous mountain of waste that ends up in the environment in India, among other places, also creates opportunities for the local population. For example, I saw that many Indian designers developed initiatives to do something with that waste. The aim is twofold, to reduce the mountain of waste and create employment for the local population.
Support from the west
Too often these kinds of ideas fail because there is no healthy revenue model to link to them. My background and contacts in the prosperous west gave shape to my mission: to support Indian initiatives in the field of people, animals and the environment by selling their products in Europe. Ten years ago I started under the name Emax Domina with a very wide range of upcycled products, but after a year the focus shifted to bags and accessories from discarded inner tubes.
Ready for the future
Over the years, Ecowings has grown into a beautiful and strong brand with a special collection of sturdy backpacks, practical laptop bags and handy accessories. All made in India from truck inner tubes. There is now also a branch within Ecowings that makes products on commission with the logo of the relevant company, organization or institution.
https://www.ecowings.nl/wp-content/uploads/angela-tussen-de-tassen.jpg
683
956
Angela
https://www.ecowings.nl/wp-content/uploads/logo-ecowings-durable.png
Angela
2021-07-07 15:42:22
2022-01-03 14:18:23
A waste mountain turns into a mountain of bags and accessories