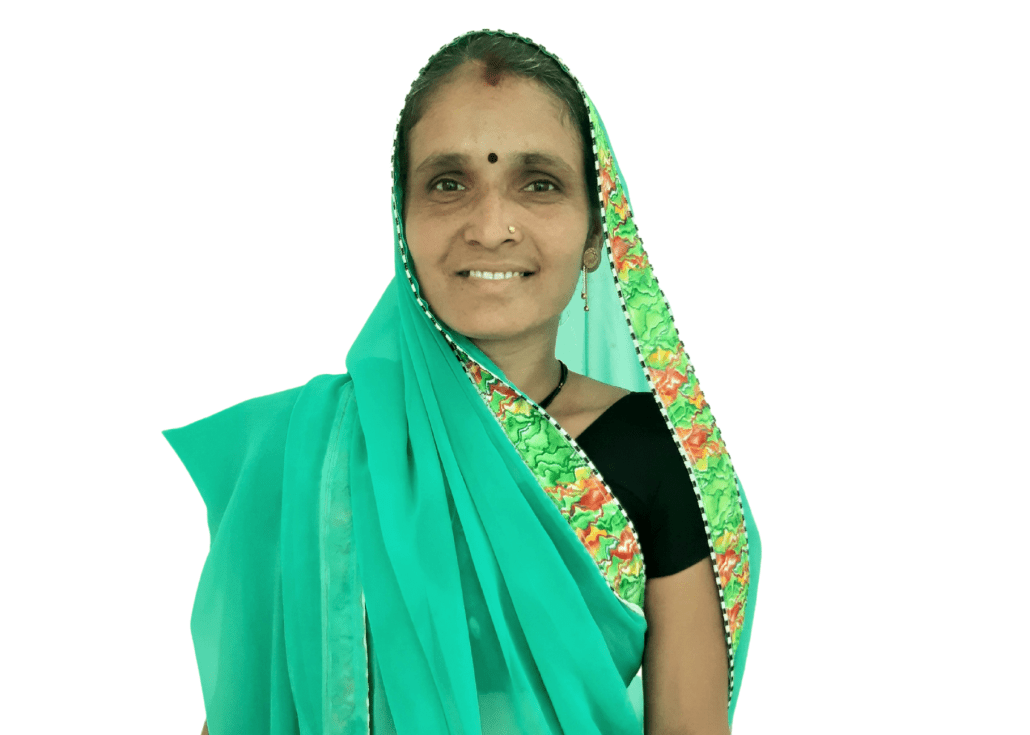 Sunita kwam 5 jaar geleden werken bij Ecowings. Ze had geen enkele ervaring in upcycling of het maken van tassen. Voordat ze bij Ecowings kwam, werkte ze als dienstmeisje en deed ze op verschillende plaatsen schoonmaakwerk om in hun levensonderhoud te voorzien. Haar economische omstandigheden waren niet erg goed.
Sunita is 38 jaar oud en ze heeft twee zonen van 17 en 10 jaar en een dochter van 12 jaar. Daarnaast heeft ze ook de zorg voor haar schoonmoeder die verlamd is. Haar man werkt in een kledingwerkplaats als opzichter. Hij verdient niet genoeg om voor het gezin te zorgen en daarom moet Sunita bijdragen aan het gezinsinkomen. Ze is volledig analfabeet omdat ze nooit naar school is geweest. Haar ouders zijn op jonge leeftijd overleden. Gezien dergelijke omstandigheden was het een enorme uitdaging om vooruit te komen in het leven en met al deze problemen om te gaan.
Ecowings als leerschool
Ze kwam bij Ecowings als een onschuldig kind met een grote hoeveelheid energie, maar met heel weinig sociale vaardigheden. We hebben haar betrokken bij verschillende werkzaamheden en ze absorbeerde alles als een spons. Ze leerde veel van de cultuur van Ecowings en ontwikkelde zich goed.
Ze maakte kennis met verschillende gereedschappen en hun functies, ze leerde tellen en meten in millimeters en inches. Ook leerde ze patronen te lezen en de panelen voor tassen en accessoires te snijden. Dit waren uitdagende taken in termen van leren en ontdekken, maar ze nam alle uitdagingen aan en stap voor stap werd ze steeds zelfstandiger. Tegenwoordig is ze een van de meest ervaren vakvrouwen bij Ecowings en goed in staat om ook leiding te geven aan een aantal van de nieuwe werknemers.

Interview met Sunita
We stelden Sunita een aantal vragen en ze antwoordde vol enthousiasme als volgt:
Sunita, what you like the most in your life?
Bhaiya, I like everything when I am at Ecowings, because every day I learn new things here. Ecowings gives me new challenges on daily basis and iI try to solve the problem as best as I can. I love the process of craftsmanship of bags and accessories. It makes me feel extremely good till the evening I remain here under the Ecowings premises. I have made something from my hand and eventually it will be packed by me only with Ecowings brand tag.
What do you do after getting the monthly salary?
I generally deposit my salary to my bank so that I can save it for my family. I am very much eager to put forward my kids in good schools and day would soon come when my daughter would get married so for the same I need to save money right from the beginning.
After joining Ecowings did you realize any incremental growth in your social and economic status?
Of course. I got raised three times. And on the festivals also we received good amount of money along with gifts and sweets. There is lot of flexibility with Ecowings as Uma didi understands us very deeply and supports us at all level.
What you want to do in future at Ecowings? What are your expectations?
I will continue and love to do good job. Learn new things and skills.
How people see you in your family when you go back to your home after finishing your Ecowings taks?
They expect lot many things. I had to cook food for people then so much pending house hold work like washing cloths and taking care of my mother in law etc.
Once you deliver the full project, what do you feel afterwards?
What is going to be next? Ready for the next job work. I don't want to sit without any work.
What are your key learnings at Ecowings?
Many. I learnt how to make men's belt, notebooks, bag panels cutting, bag detailing etc.
What is the best thing you like the most at Ecowings?
Environment! Earlier I used to work as a maid and used to wash kitchen utensils. People used to call me 'Bai' which I never liked. But when I joined Ecowings in our society people don't call me "Bai". I feel lot of respect within myself and sometimes people don't believe as I work in a Bag company.
Do you have anything in your mind which you want to do at Ecowings?
I want to see more people around me. It is always a great feeling when lot many women are working together here. We enjoy that environment a lot.
Which product do you like the most at Ecowings?
Geschreven door:  Kapil Sharma – november 2021
https://www.ecowings.nl/wp-content/uploads/Sunita-op-witte-achtergrond2.png
1297
1817
Angela
https://www.ecowings.nl/wp-content/uploads/logo-ecowings-durable.png
Angela
2021-11-01 15:32:42
2021-11-15 11:46:56
Sunita