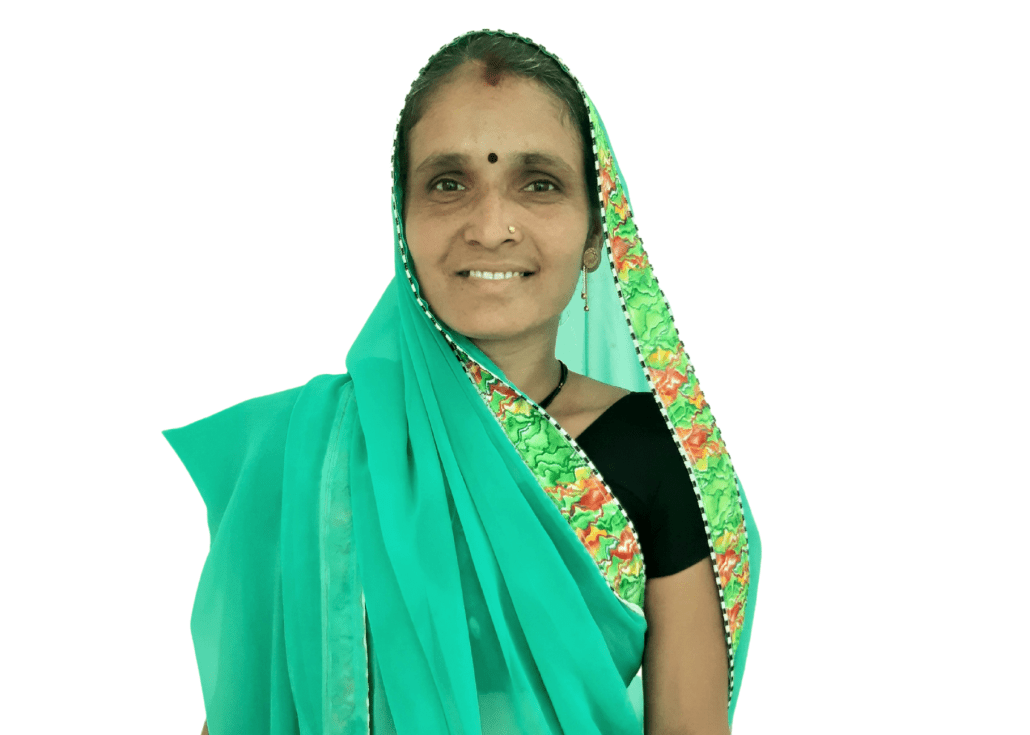 Written by:  Kapil Sharma – november 2021
5 Years back Sunita has joined Ecowings with no experience in upcycling or in bag making process. Before joining Ecowings she was working as a maid and used to wash dirty utensils at different places to earn some livelihood as her economic conditions were not very good.
She has two sons and one daughter along with husband and mother in law who is suffering from paralysis. Because her economic condition is not good and her entire livelihood is dependent on her husband, she has to contribute to her family and shoulder several responsibilities. She is completely illiterate because she was never sent to school as her parents left her in the beginning of her childhood. In view of such circumstances it was extremely challenging to move forward in life and cope with all these problems all together.
Learning the skills at Ecowings
She joined Ecowings with very basic common understanding like an innocent child who had a bundle of energy but not having any sort of skills. We involved her in various upcycled tasks and she absorbed every single thing like a sponge and groomed herself, accepted the culture of Ecowings and started to shape herself in such a manner so that she can deliver some measurable outcome.
She was introduced to various hand tools and their functions, understanding the measurements, reading the scales and knowing the millimeters and inches etc. How to develop the patterns and create the panels for bags and accessories. These were the challenging tasks in terms of learning and exploring yet she took all the challenges and grasped all the basic things bit by bit. Today she is one of the most skilled craftswoman who has five years of experience in bag manufacturing and has become a valuable asset for Ecowings who not only leads in Ecowings but also takes up most of the international projects right from its inception.

Interview with Sunita
We asked the following questions and innocently she replied to our curiosities.
Sunita, what you like the most in your life?
Bhaiya, I like everything when I am at Ecowings, because every day I learn new things here. Ecowings gives me new challenges on daily basis and iI try to solve the problem as best as I can. I love the process of craftsmanship of bags and accessories. It makes me feel extremely good till the evening I remain here under the Ecowings premises. I have made something from my hand and eventually it will be packed by me only with Ecowings brand tag.
What do you do after getting the monthly salary?
I generally deposit my salary to my bank so that I can save it for my family. I am very much eager to put forward my kids in good schools and day would soon come when my daughter would get married so for the same I need to save money right from the beginning.
After joining Ecowings did you realize any incremental growth in your social and economic status?
Of course. I got raised three times. And on the festivals also we received good amount of money along with gifts and sweets. There is lot of flexibility with Ecowings as Uma didi understands us very deeply and supports us at all level.
What you want to do in future at Ecowings? What are your expectations?
I will continue and love to do good job. Learn new things and skills.
How people see you in your family when you go back to your home after finishing your Ecowings taks?
They expect lot many things. I had to cook food for people then so much pending house hold work like washing cloths and taking care of my mother in law etc.
Once you deliver the full project, what do you feel afterwards?
What is going to be next? Ready for the next job work. I don't want to sit without any work.
What are your key learnings at Ecowings?
Many. I learnt how to make men's belt, notebooks, bag panels cutting, bag detailing etc.
What is the best thing you like the most at Ecowings?
Environment! Earlier I used to work as a maid and used to wash kitchen utensils. People used to call me 'Bai' which I never liked. But when I joined Ecowings in our society people don't call me "Bai". I feel lot of respect within myself and sometimes people don't believe as I work in a Bag company.
Do you have anything in your mind which you want to do at Ecowings?
I want to see more people around me. It is always a great feeling when lot many women are working together here. We enjoy that environment a lot.
Which product do you like the most at Ecowings?
Panda!
https://www.ecowings.nl/wp-content/uploads/Sunita-op-witte-achtergrond2.png
1297
1817
Angela
https://www.ecowings.nl/wp-content/uploads/logo-ecowings-durable.png
Angela
2021-11-12 11:45:56
2021-11-12 11:52:00
Sunita