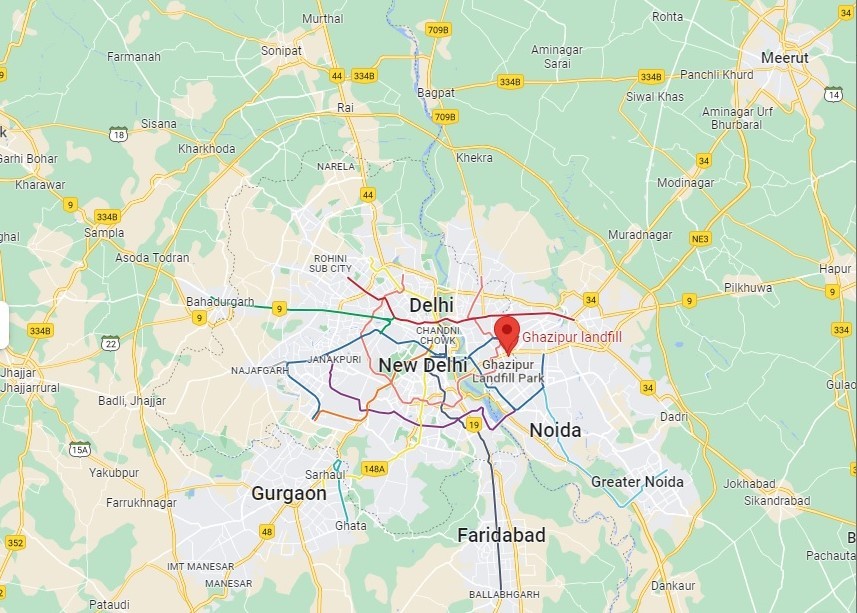 Ghazipur landfill park is located in a suburb of New Delhi. The official name of this area suggests that it is an idyllic spot for a picnic on a beautiful summer day. But it certainly isn't! The nickname 'Mountain of Shame' indicates that it is a place that most Indians prefer to avoid.
3000 garbage dumps in India
Ghazipur is one of India's 3,000 garbage dumps containing more than 800 million tons of waste in total. The waste mountain of Ghazipur has a height of more than 65 meters and is therefore higher than the Taj Mahal. Every day, 12,350 tons of waste are produced in Delhi, 690 tons of which are plastic. 55% of this ends up on 1 of the 3 overcrowded waste heaps of Delhi (Okhla, Ghazipur and Bhalswa). The other 45% ends up along the road, in the rivers, and on small local waste heaps.
Extremely flammable
The waste heaps contain large amounts of methane, which means that they can easily catch fire, especially in the summer when temperatures exceed 40 degrees. In 2020, parts of the mountain were on fire 15 times.
Monday 28 March 2022 it was that time again: a gigantic fire broke out. After 4 days, the 90 firefighters still had no control over the fire. The burning mix of household, biomedical and industrial waste causes enormous pollution of ground and surface water. In addition, air pollution (and CO2 emissions) is incalculable. The mouth masks that the firefighters are wearing will not stop much. In the wide area people have stinging eyes and can hardly breathe.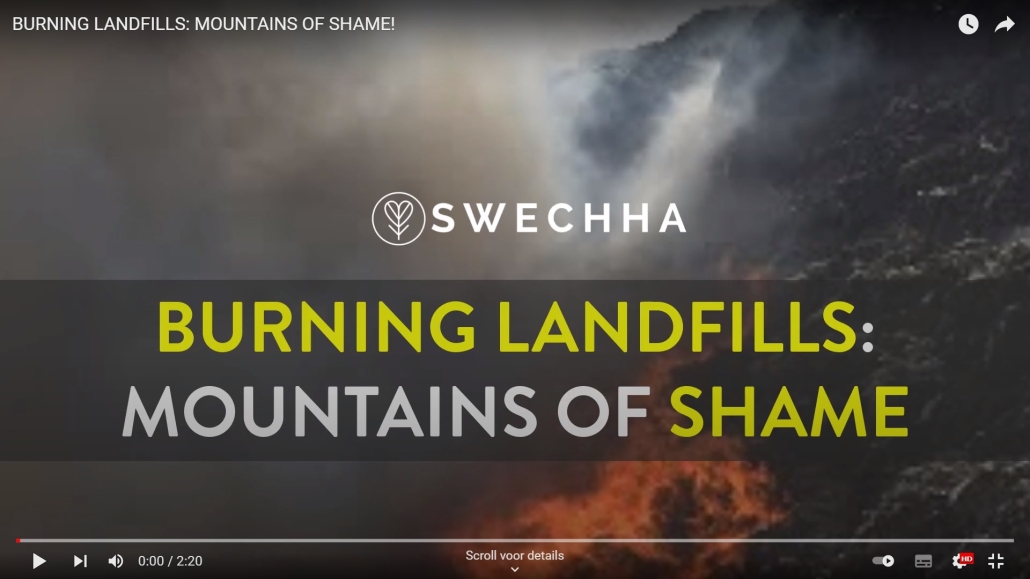 In the Netherlands you don't hear or read anything about this, but the BBC did make a short report about it.
It has to be different
It is time for a better system for waste processing in Delhi. The organization Swechha India has been fighting for this for 20 years and has also made the above film to put this problem on the map. It is now the case that all the waste is literally thrown into one heap. Then waste pickers go through to fish out valuables. Thousands of families live on these garbage dumps under the most appalling conditions. And there are also a lot of children.
Indore
There are already initiatives in various places in India to do things differently. Indore, the city where the Ecowings workshop is located, is a forerunner in this regard. Since 2016, Indore has been separating waste and converting waste into usable products as much as possible. Converting discarded car inner tubes into high-quality bags is of course a good example of this. Indore has been named the cleanest city in India by the Ministry of Urban Development for three consecutive years.
What a bag can do
In the delusions of the day you sometimes forget why you do what you do. Anyway, this video puts me back into action mode. The waste problem in India is so huge! It may be a drop in the ocean to buy or sell a bag made of car tire, but still! Not only do you save a lot of CO2, but we also show that things can be done differently. In India there is still a world to be won in the field of awareness. That's why we do it together!
https://www.ecowings.nl/wp-content/uploads/delhi-Ghazipur.jpg
613
857
Angela
https://www.ecowings.nl/wp-content/uploads/logo-ecowings-durable.png
Angela
2022-08-18 09:58:02
2022-09-09 10:23:38
A mountain of CO2 shame